Bluff Mountain ATV Adventures

2186 Parkway

Pigeon Forge, TN, 37862
<!-.col1-!>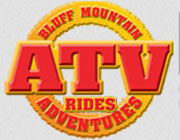 <!-.col3-!>
Bluff Mountain ATV Adventures Video:
Bluff Mountain ATV Adventures Coupon: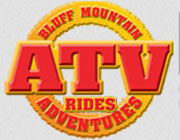 $5.00 OFF
$5.00 OFF Any Trail Ride
Not valid with other promotions. Some restrictions may apply.
Must be 57" Tall To Participate.
Coupon Expires:
12-31-2023
BEST READ GUIDE
Bluff Mountain ATV Adventures Photos:
Overview:
Bluff Mountain ATV Adventures
Enjoy professionally guided tours thru the Smoky Mountains on ATV's & Side by Sides.
Read More
Ride the Bluff! Is the slogan of Bluff Mountain ATV Adventures. There you can take a guided ATV trail ride through 6,000 acres of Smoky Mountain wilderness in the foothills of the Tennessee Smoky Mountains. Every tour is designed to be fun and challenging, but the level varies from Family and Introductory rides to custom trail rides across the ridge-tops of the mountains.
Imagine the adrenaline rush of powering your own 4-wheel ATV 2,300 feet up to the top of the bluff and motoring along the very ridge-back of the mountain. Experience is required on the Ridge Run but you and your group will experience rough, mountainous terrain, water crossings and scenery beyond compare. Expand your ATV experience with a Custom Trail Ride that will cover even more mountain riding and even more ridge-running The Family/Introductory trip is perfectly suited for a memorable cruise through some of America's most beautiful forests and mountain streams. The terrain is moderate but the views are outrageous, and you will enjoy many Kodak moments to stick in the family album or to share on Facebook or Instagram.
The Bluff Mountain ATV Adventure is a great experience any time of year. In the summer the trees and flowers are in full bloom and wildlife abounds. When the leaves change in the Fall you can get a close-up look at the Fall colors and hear the crunch of leaves under your tires. During the winter you need to wear warm attire but you will see all of winter's glory driving through snow-covered forests. And, as the earth warms and foliage begins to bloom, you will see the earth come back to life right before your eyes. During all seasons, don't forget your camera so you can make memories to share when time and time again from you Bluff Mountain ATV Adventure.